GENESTRA HMF Toddler + Pro Vitamin Supplement with Probiotics Mixed Berry Flavour 60 g Powder
Genestra HMF Toddler + Pro is a complete vitamin and probiotic combination for toddlers. 
Features:
Includes vitamins, minerals, antioxidants and clinically proven human-sourced probiotics
Supports normal growth and development
Helps to maintain eyesight, skin, membranes and immune function
Provides 2.5 billion CFU of probiotics that could promote a favourable gut flora
Includes added GOS and FOS
Great-tasting berry flavour
Genestra HMF probiotics (despite having keep refrigerated on box) maintain a high degree of stability at 25C for up to 20 days.
HMF Toddler + Pro supports pediatric nutrition and intestinal health with a unique consortium of human-sourced probiotic strains and over 10 vitamins. Vitamins A, C, D, and K support the development and maintenance of bones, cartilage, teeth and gums. Red blood cell formation and macronutrient metabolism are supported with vitamins B1, B2, B3, B5, B6, biotin, folate and B12.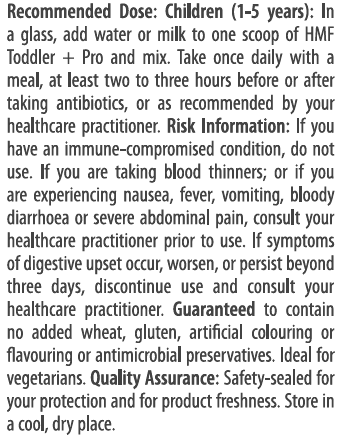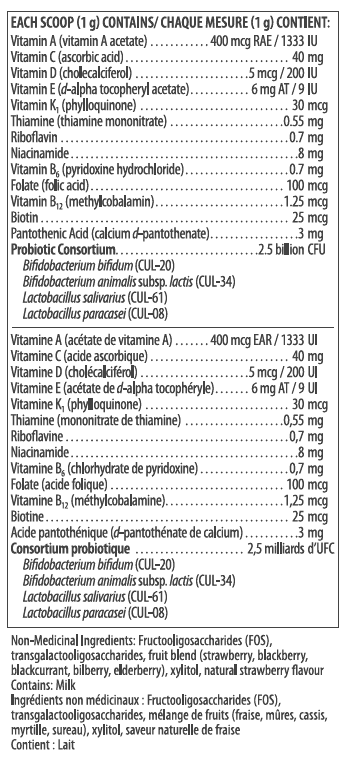 Please be advised that thehealthyroad.com follows manufacturer guidelines for storing & shipping probiotics. This product will be shipped with an ice-pack to maintain product efficacy.
---
We Also Recommend
---